This page show some sample screen shots to illustrate just a few of the mapping capabilities of MapMate. Please note that these are all real screen shots taken from the program - but are reduced in size and resolution to minimise your page download time.
Produce conventional 'dot' distribution atlases..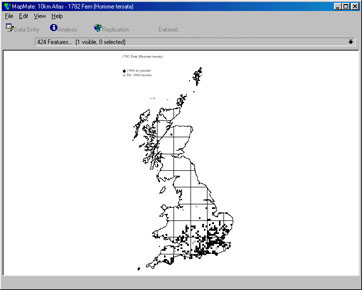 Produce dot distribution altases at the touch of a button. Choose which species groups to map and simply click in the toolbar 'feature list' to select individual species to view. Zoom and pan the view - and drill down to trace original data from dots on your map. You can change symbols and colours and plot records by life stage or in data-bands. Choose any area, county, or vice-county in the UK to construct a map or atlas.
Produce colour coded species and record density plots..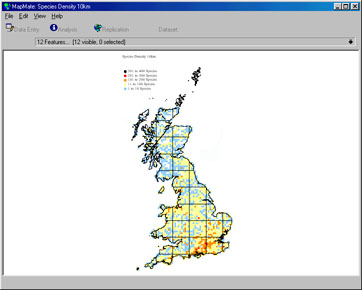 Construct species density or other summary maps. The map above shows recorded species numbers per 10km square. The outline maps are constructed using the built in 1:200,000 vector maps for Bartholomew. You can print maps, save as EPS files or copy and paste them into other applications.
Show local stylised distributions maps..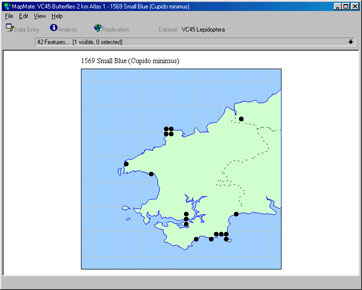 Use custom presentation options to create stylised maps. The map above shows where a particular species has been recorded in Pembrokshire - the dotted line being the Vice-County boundary for VC45. Use built in map library shapes and a host of querying options to present your data in infinite ways.
Use aerial photograph as backdrops..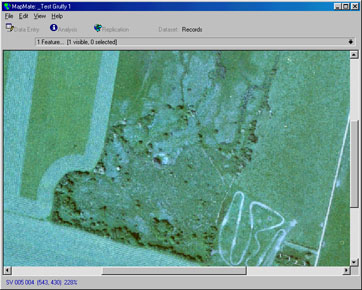 You can use ortho-rectified aerial photography as an aid to site location or as backdrops for recording on reserves or other areas. You can mix a raster background with digital vector overlays. You can 'calibrate' photos on screen to get accurate geo-location information from your mouse pointer. Click on a picture to add sites/locations or to query records.
Use digital raster mapping..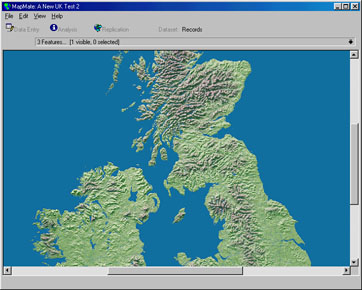 Use a variety of 'off the shelf' or 'free for personal use' digital maps - including OS digital map tiles. The map shown is a pseudo digital image of the UK constructed from a 1km relief model (this particular image is supplied with the program).
I'm convinced...let me order now!