Quick and simple data entry:
MapMate provides the latest in Rapid Data Entry Technology - with a 'no fuss', simple entry screen and Intelligent checking of your typing as you go...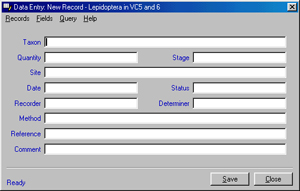 Data Entry features a simplified version of the National Biodiversity Network (NBN) data model - recording just those items you need to keep. Including: site/location, species, quantity, sex, stage, status, date, recorder, determiner, method and a reference - plus a free comment field for additional details.

Enter species names whichever way you wish - by scientific or common name - or by standard coding and numbering systems. The program will try to match your entry from minimal and even misspelled typing.

A host of features are built-in to help with your data entry - all identified by recorders and enthusiasts. As you enter data, you can instantly check for: recent records, early and late dates, flight periods, other recorders, other recorded sites and much more!

Powerful Query functions are available from the data entry screen allowing you to find records, sites or recorders that match any criteria you enter.

Create listings and text export files for any criteria for import into other applications.

F1 context sensitive help is always available to give you advice on any aspect of your recording.

Produce instant distribution maps:
At the touch of a button you can see the very latest distribution for any species in your county, local area or even at a national scale:
.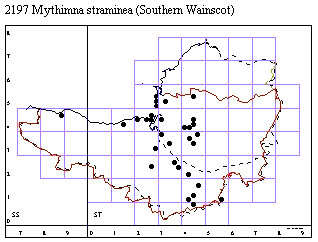 Another unique MapMate feature is the ability to click on screen and trace back from 'dots' to the original records - giving full data on recorders, dates, localities and other original information!
MapMate 2 also supports 'raster' or picture maps as backgrounds and has built in calibration for accurate co-ordinate location - plus the latest (2002) hi resolution GB Admin Area boundaries including Unitary Areas and County Districts. You can mix raster and vector data to combine say aerial photography with vector compartment outlines for the ultimate in reserve recording!


Click here for more on mapping
MapMate has over 120 built-in Queries to analyse your data - with a powerful and full featured data browser. No need to fiddle with Report Wizards!
..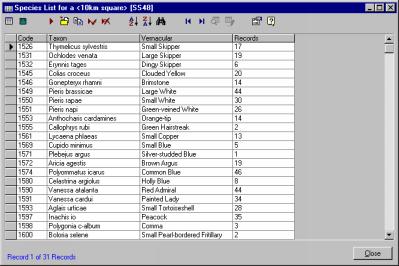 View your records by species by year, by grid-squares, by recording method, by recorders, search for duplication, show flight times, new records this year, relative abundance... or just browse through your data...
Copy and paste results into word processors or spreadsheets for further processing or presentation.

Advanced users can write their own queries in SQL - or query the database directly from applications like Access.
Share your data with other users:
MapMate has the very latest in Database Replication Technology built in.
Replication allows any user to exchange records with any other user having similar species and geographic area interests. Replication creates a network of recorders in local or national groups.


No other recording program gives you this technology!
All this for just £36 - Click HERE for order information