Sample Dataset - 1
You have now set up your maps but nothing will be shown on them until you have entered some records as described in the chapter on Data Entry.
To allow you to see the mapping capabilities of MapMate, without waiting until you have entered your data, a sample Dataset, of some Somerset Micro-moths, has been provided for you to try out.
At the MapMate Main Screen click on the name 'Records' beside 'Dataset' in the top right of the toolbar and choose 'Sample - Pyralidae in Somerset' from the drop-down list.

When the Somerset Dataset has loaded, choose 'File' > 'Open' and you will see a number of sample maps listed. Select the 'VC 5 & 6 Pyralids 2km Atlas' and click on 'Open'. (Somerset is divided into two Watsonian Vice-Counties, 5 is South Somerset and 6 is North Somerset). The other maps included in the sample Dataset illustrate a range of types of maps that can be produced by MapMate.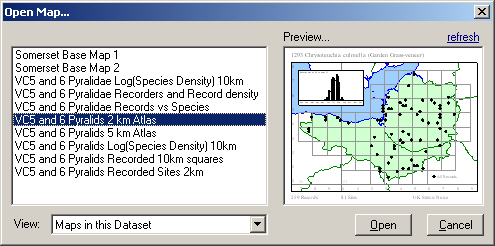 When the map is open, you can select the moth to be mapped from the pull-down list in the 'Feature' field. Click on the one that you would like to plot and it will be marked with a tick and then mapped.